FAQ & Help
General Information:
Don't worry, nothing's wrong :) We own our factory 100%, other suppliers are middlemen between you and the factory.
Operating our facility allows us to make our profits by volume, instead of charging top dollar for every single order.
Yes! Our factory is in Kushan (a suburb in China) and it has been in operation for almost 20 years.

Because we own our factory, we have complete control of our production. We strive to keep all of our machines running all day. Although our production schedules are tight, they can be adjusted on the fly to accomodate unexpected rush and urgent orders.
Yes, that's what we said! If you are using our products for programs or other non time-sensitive orders, we can extend production time, schedule around other jobs, and offer you a bigger discount.
We sure do! In most cases, we can provide all the assistance you'll need free of charge. In some cases, like asking us to vector trace a photo or other bitmap, we may have to charge you a little....
Pins FAQ:
At Full Designs, we offer many different pin processes to satisfy your client's needs. With a lot of choice comes a lot of details, we'd like to take a minute to make your client's choice easier.
Both these color filling methods can be used on either die-struck or die cast pins. Both soft and hard enamel colors are applied in liquid form. Areas to be filled are the recessed portion of the die-struck or die-cast metals. These areas have to be completely enclosed with raised metal lines acting as borders or dams to prevent the color from spilling.
Soft Enamel fills like nail polish, keeps a liquid "look", and the colorfilled areas are recessed and provide a tactile feel. Soft enamel pins are durable, beautiful and long lasting.
Hard Enamel is like car paint, it needs to be baked to achieve it's permanent finish, and the enamel rises like bread, completely filling the colorfilled areas up to the surface of the pin. Much more had work is required to finish a hard enamel pin. They are jewelry like, and will last forever if taken care of.
For traditional soft and hard enamel pins, no shading or gradients are possible and all detail lines and small lettering will be in the metal finish of the pin.
Additional Silkscreen printing on hard enamel, soft enamel, and all-metal pins.
For logos that absolutely require small lettering in colors, we can laser print, or silkscreen directly on the finished surface of the pin. There is a small extra charge for this durable, colorful printing.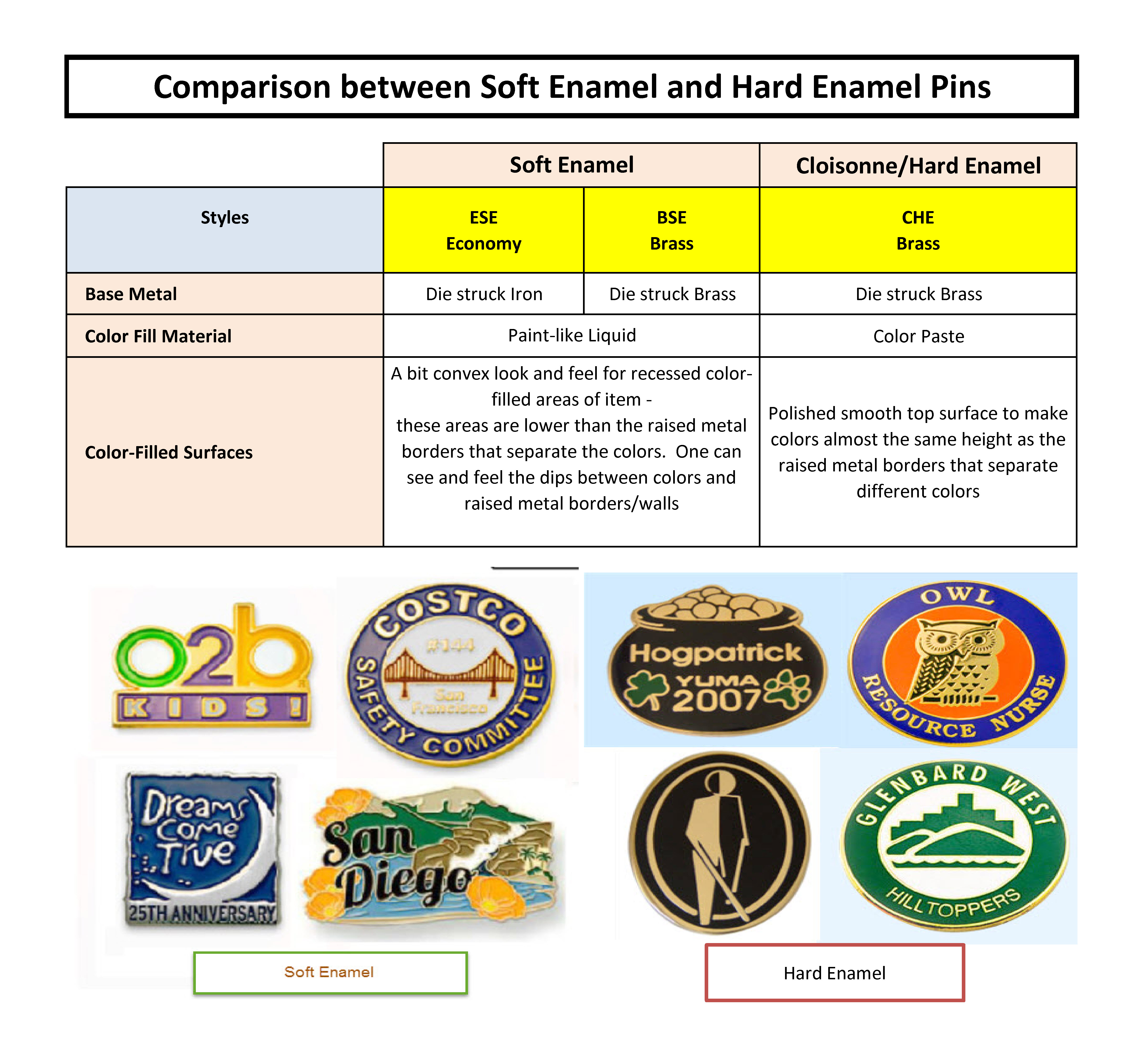 When we use the term "economy", it means the base metal is iron. The traditional metal used for making pins is brass. But since iron is slightly less expensive and works exactly like brass, most pins now use iron since functionality and appearance is not compromised at all once the product is plated. The use of iron is generally the most economical solution unless the product is to be used in an environment where the use of magnetic metals is not safe, eg. medical or dental patients, etc.
Die struck pins start with a blank piece of metal. A custom carved, heat tempered die strikes the blank metal with thousands of pounds of force, creating raised and recessed areas on the metal piece. The raised areas (mostly lines) will normally give the basic shape and idea of the pin while the recessed areas which could be color filled (with soft or hard enamel colors) , rendered with texture or sandblast finished, or antiqued, give the pins their character. Die striking is the traditional method of creating pins. Iron and brass are the usual metals used for die stricking process.
Die casting uses heat-tempered molds, which are then filled with molten zinc, to shape the pin. Once cooled, the pin is electoplated with the finish of one's choice and then color filled (soft or hard enamel), matted, or antique, as requested. Zinc is light and thicker products can be made from zinc adding a higher perceived value without increasing shipping weight. Casting is a very versatile process than Die Striking. Many extricate shapes and cut-outs can be done in casting that die striking will have difficulty duplicating.
Nevertheless, both processes have their own advantages in creatingthe perfect award or recognition product that you require.
Offset printing uses blanks of brass, steel, aluminum or other metals, in a 4 color silkscreen process directly to the pin. The printed pin is then coated with a clear epoxy or polyurethane dome to protect the image. Offset printing is best for logos with a lot of gradients or shading. It's a budget process and good for large scale giveaways and promos. For further economy we can do offset printing on Brass, Steel (iron), or Aluminum.
One of our specialties is Dyed Metal Plating. Normally, pins are plated in Nickel (silver tone) or Brass (gold tone), in addition to these choices, we offer hypoallergenic Nickel Silver, Black Nickel, 24k Gold, Copper, Antiques, and Dyed Metal. A traditional Enameled pin would have either gold or silver tone for the small lettering and fine detail of the pin.
We have perfected the Dyed Metal plating process and can offer metal plating in most PMS matches colors. The finish is slightly more matte than Dyed Black or Black anodized, but can be done in a variety of colors such as yellow, white, green and red plating.
The first question to ask your client is "how will these pins be used?". Our recommendation is to use the budget processes for giveaway pins. Economy Soft Enamel, Offset Printing, Sandblasted, are all great giveaways when the design is appropriate.
If your client is looking for a corporate, civil, or education anniversary pin, we recommend Hard Enamel, Sandblasted, Die Cast with 24k gold finish, or another high-end, jewelry like process.
For retail and bonus items, all of our processes will work great. Die Struck Soft Enamel is a good baseline, and will do well in retail, music merch, comic merch, and pop culture pins. For high end retail, Hard Enamel is still the king!